Summer is usually the season when everyone enjoys the outdoors like going for walks, having a picnic, even going on a day trip. But in Florida, the summer heat can be stifling. Sometimes there are days when it's enjoyable to stay inside with air conditioning.
Learning something new is a great summertime adventure and there are plenty of ways to stay engaged and active indoors. Take a look at these fun indoor activities for seniors so you can stay cool while enjoying your summer.
Importance of Indoor Activities
Indoor activities during the summer offer elders plenty of fun options for how to spend their time while staying out of the hot sun. Older adults are susceptible to heat-related health issues like heat exhaustion or heat stroke, so when the temperature climbs above 80 degrees, it's best to limit time spent outdoors to an hour and be sure to drink plenty of water to stay hydrated.
Luckily, there are so many fun activities for older adults to stay active and engaged.
Artistic Indoor Activities for Seniors
Whether you're a lifelong artist or curious about trying a new way to express yourself, art is a perfect indoor activity involving hand-eye coordination and tapping into your creativity. Ways to get involved with art include:
1. Woodworking
Designing a project in a woodworking shop allows you to get creative, work with your hands, and stay cool and comfortable in the Carpenter's Shop. There's nothing quite like bringing your creations to life in a woodshop. It doesn't matter whether you're a skilled craftsman or curious about how to woodwork, there's space for everyone. And fortunately, our community offers an expert-level woodworking shop for our residents' use!
2. Painting or Drawing
You can use inspiration from anywhere to paint or draw whatever you want. You could even pull from the season. Summer is full of beautiful scenery – think of blue ocean waters, gardens full of blooming flowers, a tire swing on an old tree. And remember when it comes to art, there are no mistakes.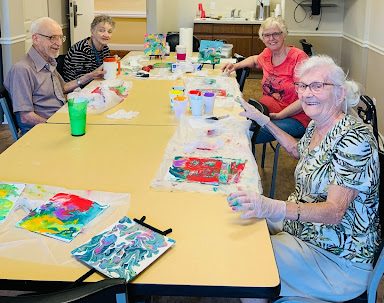 3. Crafting
Another form of art is doing crafts. These can be fun DIY projects to spruce up your home. Crafting with a group of friends will be a great way to spend an hour or two on a hot summer day. Here are some great ideas to get you started!
4. Knitting and Crocheting
Grab your knitting needles, crochet hooks, yarn, and join The Needlers, a group of friends who love to share ideas, teach new techniques and, of course, tell stories. You can make blankets, clothes, accents for side tables – all while making new friends and sharing stories with those around you.
5. Scrapbooking
If you have a lot of family photos, you may want to consider scrapbooking. This unique way for displaying your treasured memories allows you to add your own spin with stickers, stamps, or writing your thoughts with a colorful pen.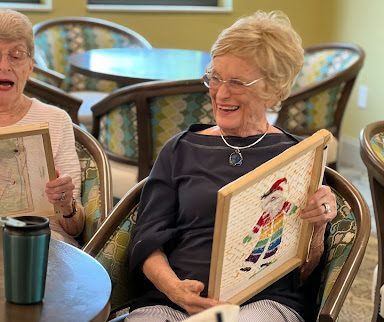 Not only is this activity therapeutic, but you also get to reminisce about the cherished moments that have happened over the years.
Fun Exercises for Seniors
Just because you're inside doesn't mean to have to be still. There are plenty of ways to get moving and improve your physical health while indoors this summer.
6. Yoga and Tai Chi
Yoga and chair yoga offers a way to meditate, work on mobility and flexibility, and clear your mind. Whether you're more comfortable on a yoga mat or with the support of a chair, yoga is a great way to feel fit and healthy.
Tai Chi is a gentle exercise with a foundation in martial arts. This mind-body exercise comprises slow movements and practicing mindfulness through breathing. The benefits of Tai Chi include increased balance and strength, reduced chronic pain, decreased stress, and improved focus and mood.
7. Strength Training and Physical Fitness
Weightlifting can help you build muscle, get stronger, and improve your balance. Working with a trainer to achieve your specific goals could help you feel like a new person by the end of summer. Since you've already established an inside routine, you can continue it in the winter months as well.
Stationary cycling has numerous health benefits while also being less stressful on your joints compared to other forms of exercise. Cycling does the following:
Improves cardio fitness
Strengthens legs
Burns fat
The Estates offers one-on-one assessments so you can work toward your goals and improve balance, posture, and strength. Residents can achieve awards for celebrating their goals or winning group challenges and competitions.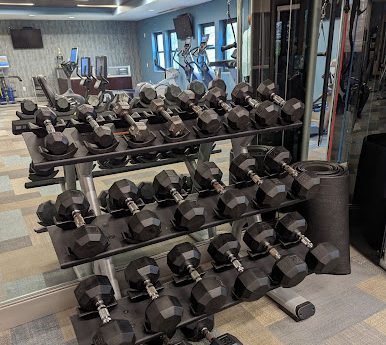 8. Swimming
Swimming pools offer a way to cool off during the summer and in Florida, who doesn't want to enjoy the feeling of a cool plunge? Swimming laps and aqua aerobics classes are great cardiovascular workouts that don't put strain on your joints because the water supports you.
Our community offers a wonderful swimming pool for residents to enjoy year-round. While you're staying cool and getting all the health benefits of your aqua aerobics classes, take a moment to meet new friends who attend the class. You could be swimming with the best of friends before you know it.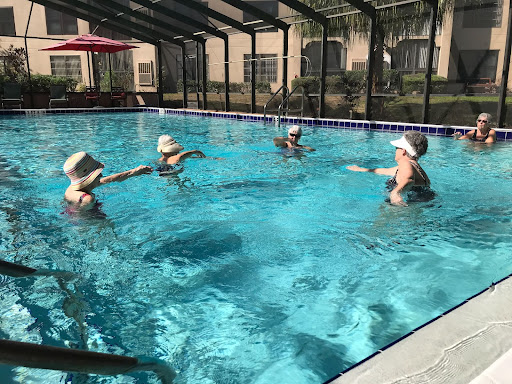 Games and Puzzles for Seniors
Playing games or doing puzzles with friends or family members allows you to get off your feet, relax, and focus on the game. These are great brain exercises because you're engaging your memory and using strategy skills, which can benefit your mental health.
9. Card Games, Dominos, Board Games, and Puzzles
There are a number of games to play with a standard deck of cards. You can find out if you're the best poker player at the table.
Another option is to find a fun game to play with Dominos. Mexican Train is a great Dominos game that can provide hours of entertainment.
If it looks like the weather is going to stay hot for a while, then it's time to break out Monopoly, Clue, and all the other long-form board games. These games can offer hours of fun for a large group of people.
Sometimes, the only strategy you want to worry about is finding the next puzzle piece that completes the section you're working on. This is another great option for keeping your brain and hands engaged without too much physical exertion. You also get the satisfaction of seeing the complete picture when placing the last puzzle piece down.
All of these games combine using your memory and strategizing your next move, all while enjoying the social connection and friendly competition with others, which are beneficial for your mental and emotional health.
Cooking and Baking
There's nothing quite like whipping up something good in the kitchen. Why not use fresh summer ingredients to inspire your next dish?
10. Share Family Recipes
You may have a handful of delicious family recipes that you'd love to share with others. Do a recipe exchange with your friends and consider making a group cookbook. If you have grandchildren, make sure to pass down your favorite recipes for them to remember and enjoy.
11. Cook with Friends
Once you have your group cookbook, start going through the list. Cooking and sharing a meal with friends regularly is a great way to stay connected.
12. Attend a Healthy Cooking Class
Branching out and trying something new may lead to your next favorite dinner. Check out these summer dinner recipes to see if there's anything you'd like to try.
Attending a cooking class is a fun way to learn new recipes, techniques, and ingredients. The Estates chefs will present a monthly live cooking demonstration so you can see how professionals make a meal. You'll learn their tips and tricks to make the dish at home while enjoying the tastes of seasonal fruits, vegetables, and nuts.
Activities for Individuals or Groups
These activities are fun to do on your own and with a group – so whether you want to take an afternoon for yourself or want to enjoy something with a large group of friends, this list has you covered.
13. Read Books
Curling up on the couch with a book is a great way to enjoy the quiet and let your imagination take off. If you're reading during a summer thunderstorm, even better.
But if you love discussing books even more, consider joining a book club so you get the best of both worlds. The Estates Book Club meets every other month and you'd be welcomed with wide arms to share the love of a great novel.
14. Listen to Music or Podcasts
Whether you're listening to your favorite songs or audio drama on your own or sharing these with a group of friends, music and podcasts offer hours of entertainment. You may enjoy listening to music or podcasts as you cook, work out, or when you want to sit and relax.
15. Watch Movies
Who doesn't love a summer movie night? Make some popcorn, get a drink, and sit on a comfy chair to settle in for a good story. Check out this list of the 51 best summer movies.
16. Go to the Salon
Plan a trip to the salon with your friends for a day of pampering and relaxation. And there's nothing better than getting a new haircut to feel refreshed and confident.
17. Indoor Gardening
Gardening indoors will give you the satisfaction of gardening without having to go out in the sweltering heat. You can grow an herb garden for your kitchen or houseplants from seeds.
Reach Out and Connect
18. Video Chat with Family
Technology allows your social connection to reach far beyond the room you're in. Plan regular video chats with your family members so you can stay up to date on what everyone is up to.
19. Learn Social Media
Social media is another great way to connect with others. You can create your own accounts to post and message friends and family. You can also follow your favorite content creators for entertainment.
Stay Cool at The Estates at Carpenters
Here at The Estates, we have plenty of ways to stay cool this summer while having a great time. Stay up to date with everything happening at The Estates at Carpenters by following us on Facebook. Contact us to schedule a visit and join in on any of our indoor activities!