We all age and the effects, timing and needs vary from person to person. In spite of shared good health, couples frequently need a retirement plan that can keep them together and handle the changes over time. One spouse may eventually require higher levels of care due to a change in health. And new challenges arise when a couple has two sets of needs.
Fortunately, the continuum of care at The Estates at Carpenters provides a path forward. To improve your and your spouse's overall health and happiness, it's important to understand the options so you can decide the best fit for you. If one of you lives independently but the other's health requires a bit more daily support, The Estates at Carpenters offers a full continuum of care from our health center on the same community campus. 
Keep reading to learn about senior living for couples with different care needs.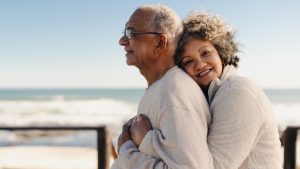 Assisted Living for Couples: Live Together With
Different Care Needs
at The Estates at Carpenters.
Whether brought on by cognitive decline, disease or fatigue, a spouse in the caregiver role is likely to experience burnout, which is all too real. This is where a Continuing Care Retirement Community (CCRC), also known as a Life Plan Community, provides support.
In an independent living or assisted living setting, you and your spouse can begin to focus on your relationship again, without one being overwhelmed by caregiver responsibilities. A Lifecare contract like the one at The Estates at Carpenters allows you or your spouse to make this transition and receive care in familiar surroundings from people you already know and trust. This contract is designed to address both present and future needs, so whenever you or your spouse needs additional levels of support, your care plan will be adjusted to meet those needs.
Our community offers independent living and a continuum of care, including assisted living, skilled nursing, and short- and long-term rehabilitation, all from our on-campus health center. 
This flexibility between care levels means couples stay that much nearer to one another, often as close as walking down a hallway, avoiding difficult moves across town. Couples living at CCRCs often find that their sense of togetherness is strengthened, even when they live in different levels of care. Care burdens are relinquished to the professionals, allowing couples to focus on their loving relationship.
The Estates at Carpenters
Health Care Services
and Amenities
Those who wish to live independently but require assistance with the activities of daily living (ADLs) will find the perfect balance of care, support, engagement, socialization and wellness in assisted living. Assisted living for couples allows both residents will get the care and independence they need.
And no matter the type of care, senior couples will always find something fun to sink their teeth into at a community like The Estates at Carpenters. For example, our community features a wide-ranging array of services and amenities in assisted living, including three delicious chef-prepared meals served daily restaurant-style, wellness programming, and more.  
Follow the links below to learn more about how The Estates at Carpenters provides the perfect settings for seniors at different points in their care journey.
A Perfect Retirement Awaits.
The Estates at Carpenters is a not-for-profit Continuing Care Retirement Community (CCRC) offering independent living, assisted living, skilled nursing care, and rehabilitation. We provide a continuum of care and a unique advantage to Winter Haven, Lakeland, and surrounding Central Florida region retirees. We welcome residents under Lifecare as well as those directly admitted.
Learn more about assisted living today.