It's well known that connection fosters friendship. In a senior living community, having plenty of groups for residents to join can connect people with like-minded interests. Seniors will meet other residents or try something new. Creating a close-knit group of friends is encouraged at The Estates.
These opportunities for socialization can benefit older adults' mental and social well-being. This is why it's so important to live an active lifestyle and see friends on a regular basis.
The Estates at Carpenters is proud to offer all kinds of opportunities for residents to join clubs, participate in activities, and be social – right on our campus. Residents are in charge of leading these groups, allowing their creativity to grow, expanding their interests, and implementing ideas and improvements.
What Kinds of Resident-Led Groups Are at The Estates at Carpenters?
Flea Market
The Estates at Carpenters on-site Flea Market has all kinds of interesting items, many of which come from the previous homes of current residents. Perusing the aisles is fun for everyone – whether it's you, a group of friends, or you're showing your family members all the unique items.
Community volunteers run the market. Currently, it has more than 70 volunteers helping organize, stock, and make sure it thrives. All the proceeds go back to the community to benefit residents.
"The Flea Market is a lifelong passion. Along with the Flea Market Volunteers we provide a service to the residents. It truly is about serving our community," said Estates resident Tacy Sarbaugh.
The Carpenter's Shop
The Estates at Carpenters resident Chuck Nash opened a woodworking shop to bring the joy of carpentry to his fellow residents and show them that anyone can do it. Nash teaches beginner classes and provides demonstrations so residents can easily get involved.
Nash's workshop was featured on their local news channel, where he noted the importance of staying active and socializing with others – two things people do in the shop.
Some of The Carpenter's Shop's efforts include making wooden fire trucks for Ukrainian refugees, and then partnering with Lakeland Police Department and Lakeland Fire Department to donate them to children.
Jerry Swope said, "I'd been doing Carpentry for many years prior to moving to The Estates. Working in the Carpentry shop allows me to meet new people who have the same love for Carpentry as I do."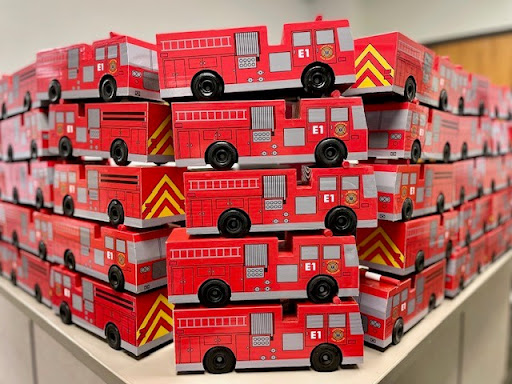 Gardening Club
For those who have a green thumb, Gardening Club is perfect for you. Growing flowers, vegetables, and herbs is a great way to stay active and swap gardening tips with fellow club members.
Residents who want to learn more about gardening are welcome to join the gardening club. While you're learning all about growing tips and enjoying seeing the progress of your garden, you'll also be getting multiple health benefits from being active, getting outdoors, and socializing with others.
Art Studio
There's an abundance of creativity at The Estates at Carpenters. The art studio provides a beautiful space for artists to express themselves through their art. But you don't have to be a professional artist to use the studio.
There are interactive art stations to get all residents who are interested in tapping into their creativity involved. There are always interesting events happening at the art studio.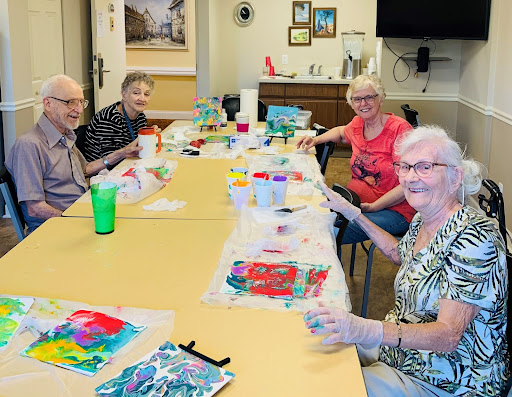 Landscape Beautification
The Estates at Carpenters takes pride in keeping the community looking beautiful for all residents. Residents provide ideas and help with beautifying the community and finding ways for residents to make the most of the outdoor spaces.
Wii Bowling League
"Before I came to The Estates, I was part of a bowling league. Being able to continue to compete and meet new friends has really been wonderful," said Marlene Poirier.
Wii Bowling League combines all the fun of bowling without dealing with a bowling ball or needing an alley. All you need is an open room and a tv.
Anyone can join the Wii Bowling League. While it is a video game, it still keeps you physically active and mentally engaged. It's easy to learn, making it beginner-friendly. This is the perfect activity for a rainy day or when you want to stay in.
Silent Singers
The Silent Singers is an inclusive club for residents of all abilities interested in exploring song through American Sign Language. Hearing and hearing-impaired residents, as well as residents with speech and mobility difficulties all come together in this group to find different ways to celebrate music.
"Being a person with a disability, I love being able to help others that are like me. Residents love the concerts we do and the classes we teach. Many residents appreciate having someone who can relate to them. Being able to continue to worship God is truly my driving force," said Anita Callahan.
Get Involved at The Estates at Carpenters
With so many ways to stay busy and make new friends, it's no wonder The Estates at Carpenters is a top choice for Florida seniors. Call us today at 863-583-5911 to schedule a personal visit to The Estates at Carpenters and learn about groups that might interest you.